09 Jun 2020
RetailWire Discussion: Will Facebook Shops launch social commerce into the mainstream?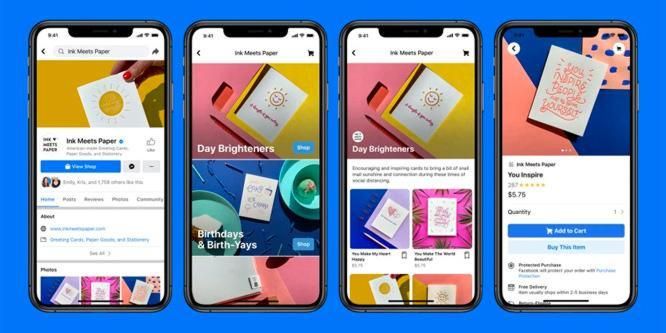 Facebook late in May introduced new tools that let small businesses set up online storefronts on its site and Instagram for free.
Businesses can upload a catalog of merchandise to a new "Facebook Shop," accessible through their Facebook page and Instagram profile. Shoppers can then browse merchandise directly within the social media apps, save products they're interested in and place an order — either on the business's website or without leaving the app, if checkout has been enabled.
Customers can use WhatsApp, Messenger or Instagram Direct to ask the business questions, get support and track deliveries. Facebook is collaborating with Shopify, BigCommerce and other online specialists to support integrations.
Facebook hopes to enable purchases directly within Messenger and WhatsApp, add Shop features to Instagram Explore, and live-connect merchant loyalty programs to Facebook apps.
COVID-19 prompted the social platform to accelerate the launch. In a live-streamed announcement, CEO Mark Zuckerberg said, "For the first time, and we're seeing small businesses that had online presences now make them their primary way of doing business."
Facebook charges a modest processing fee for using its checkout features. It expects to monetize the program by selling advertising to merchants looking to reach Facebook's more than 1.7 billion daily active users.
The two main rivals to the service are Amazon and Google.
Citi analyst Jason Bazinet believes retailers will have more incentive to advertise with Facebook now that e-commerce is more seamlessly integrated. He noted that ads on Amazon generate about four percent of the company's gross merchandise volume. "This suggests marketers are willing to spend more on ads when they are confident the consumer is close to making a purchase," he writes.
"It could be a big game changer or it could fall flat," added Lauren Rockwell, associate director of SEO at Cogniscient Media, to MediaPost. "Amazon is so ingrained in our culture. It may be another place for users to go play and purchase. It's another auction we have at our disposal, but it will depend on who will use it."
Discussion Questions: Is Facebook Shops positioned to accelerate online sales across social media? What do you think of Facebook's targeting capabilities and reach compared to Amazon and Google?
Comments from the RetailWire BrainTrust:
Facebook Shops will absolutely accelerate social commerce in Western markets. This launch is evidence of a clear trend toward social commerce, which includes the evolution of shopping on Instagram and competitor Pinterest.
Facebook's uniquely rich insights into our social relationships, pinpointed ad targeting and impressive reach across generations makes it a worthy rival to Amazon and Google. Eventually Facebook will integrate its Libra cryptocurrency for seamless mobile payment.
Although Amazon and Google are direct competitors, China's wildly popular social commerce platform WeChat is a model for Facebook's aspirations and it provides a glimpse into what we could see in North America.
WeChat integrates e-commerce, mobile pay, search, messaging, livestreaming, video calls, and group discounts. As such, WeChat combines many strengths of U.S. tech titans as well as Zoom and Groupon, and its broad appeal and stickiness have attracted more than a billion users.

Lisa Goller, Content Marketing Strategist

My gut feeling is that it would work. Anything that reduces friction in the buying journey is better. If a consumer doesn't need to switch websites to go to Amazon or search on Google to purchase, it could be extremely powerful.

Suresh Chaganti, Co-Founder and Executive Partner, VectorScient

Omnichannel has always been important, but now it is crucial, and the channels are now broadening. This is a smart move for Facebook as well as for businesses: other than going directly to a search engine or shopping platform, social media is the next-best place that consumers visit for ideas, reviews, and more. The experience is streamlined and made more convenient by the ability that Facebook will provide to shop, save favorites, put together a cart and click "purchase" on the same platform where they are seeing ads and browsing favorite accounts for inspiration. Facebook is upping the ante on consumer experience, which is what will ultimately gain loyalty.

Shikha Jain, Partner, Simon-Kucher & Partners

Facebook Shops is an easy way for small businesses to promote and sell their products on their Facebook page or through Facebook ads. Facebook Shops are not on par with Amazon and Google, as it appears that there is no product search feature to search all shops that offer the product you are looking for. Unlike Facebook Marketplace, which is similar to Craigslist, you won't find a Facebook Shop from a search. I am sure Facebook will be offering the search capability soon to make it a platform that can compete with Amazon, Google and Walmart.

David Naumann, Vice President, Retail Marketing, enVista

Facebook has been inching toward seamless shopping for so long that the reveal almost feels anti-climactic, though I think the results will be big. For many local shops, Instagram has been the main source for new customers for years now, and Facebook has served as a big engagement and retention driver. The new Shops features will be a nice supplemental tool (in addition to storefronts, online stores, and email marketing) for small businesses to boost sales with current customers and decrease the time between discovery and purchase for new customers.

Meaghan Brophy, Senior Retail Writer

I think this is not much competition for Amazon. Maybe more of a mashup of eBay and Etsy. With Amazon or eBay you start with a product in mind. Here you start with a small shop in mind. those are such different shopping starting points I just don't know how this will fit into the retailing ecosystem. I'm thinking it's a small idea for Facebook but a good thing for local merchants.

Joel Rubinson, President, Rubinson Partners, Inc.