eCommerce Expo 2022: Overcoming Cross Border eCommerce Challenges in South Asia with Daraz's Aaina Mahajan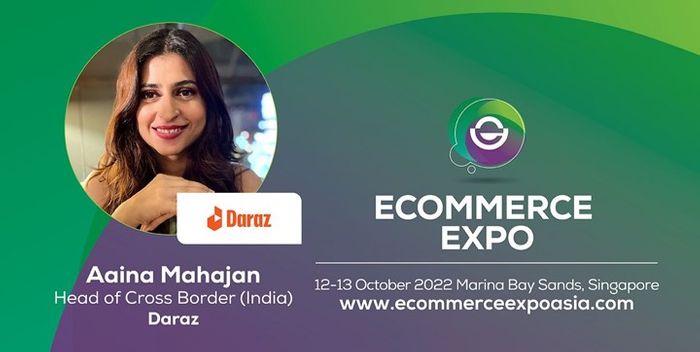 Daraz's Aaina Mahajan shares her experience of working with South Asian governments to achieve cross border commerce. Get your free ticket to hear more from Aaina at eCommerce Expo Asia 2022 on 12-13 October.
Q: Considering your session on cross border eCommerce in South Asia, what do you feel is the biggest challenge facing businesses within the next year? What impacts does this challenge have? And how can we overcome this challenge?
The biggest challenge facing the cross border business in South Asia is predominately high custom duty and taxes for imports, which restricts our ability to launch multiple categories in the destination markets. For example, custom duties for fashion in Bangladesh range from 80%-150%, which makes the prices for cross border items non-competitive in these markets and eventually weakens our value proposition to the customers.
We have witnessed high demand for fashion from our customers, but we are unable to provide them global brands due to the government regulation in the category, hence customers often travel to countries like India and buy items and sell in this market, which becomes another challenge for us, since we can't control the grey market selling offline or on our platform.
As a business we strive to be compliant, and to address this challenge, we work with the government of these countries to formulate policies which benefit the customers and strengthens the eCcommerce space in these economies. For example, in Pakistan we worked with the authorities to introduce de-minimis rules that imposes zero duties for items below 5000 PKR or $22 USD. Therefore, it is instrumental to work together with the authorities to establish a strong framework for eCcommerce in South Asian countries.
Q: Do you have your eye on any specific technology or solution that can help businesses achieve cross border eCommerce, and why?
In the past few years, many companies have started offering services to businesses to expand to new markets via cross border solutions. These companies offer technology that help businesses maintain and update inventory in real time across different eCcommerce channels both domestically and overseas.
We are looking to partner with such companies which will help our partners with inventory and invoicing, and will provide us a plethora of sellers that already use their services. For example, we partnered with Eunimart in India and, through our integration, we tapped into their existing seller base and the sellers can now start selling at Daraz in Nepal with ease.
Q: Daraz's mission is to help SMEs grow their online business and create personalised shopping experiences. Considering when you are working with your team, what is your philosophy in achieving this goal and how do you approach applying technology to help in this effort?
Our central philosophy is "uplifting communities through the power of commerce" and we use this value every day in our work while dealing with sellers locally and globally.
We currently operate an ecosystem of approximately 50,000 sellers serving six million consumers with more than 20 million listed products. As part of the Alibaba ecosystem, we are leveraging Alibaba's global leadership in technology, online commerce, mobile payment and logistics to empower our sellers and introducing them to cutting edge features in our seller centre, which in turn enables them to digitise their operations and serve our customers with utmost convenience.
Our on-ground seller acquisition and incubation teams not only acquire sellers for us but also educate these sellers about eCcommerce operations, setting up a catalogue shoot, helping them to list their products on our platform to really kickstart their digital journey. We now successfully work with both big and small sellers and can take pride in creating a positive impact.
Q: What would be your biggest piece of advice for fellow leaders who are looking to achieve cross border eCommerce?
Being in this industry for over two years now, I believe the key to success is being determined to passionately grow business for your sellers. I understand this to be more of a personal value, but this trait, according to me, determines your success at work, your collaboration with inter-departmental teams and your relationships with external parties. However, I also want to clearly outline that there will be challenges as eCcommerce guidelines are still not very solid in South Asia, hence leaders should look at collaborating with government bodies to build the fate of cross border for the country together.
Q: What do you feel is the value of in-person events like eCommerce Expo Asia, and why would you encourage fellow business leaders to attend your session?
I believe events such as eCommerce Expo Asia expose you to the trends in the industry, serve to give you new ideas and inspiration to understand how other businesses are dealing with the industry challenges. It also gives you a chance to network with fellow business leaders, potential partners that are important for personal and professional growth both from an individual and company standpoint.
In addition to this, it is a great playground for learning new insights for people interested in joining this industry.
Aaina will lead a session on Overcoming Challenges Associated with Cross Border eCommerce Business in South Asia, and will also be part of a panel session on Building a Cross Border Future for the Post-Pandemic World with experts from LBB Asia, eBay, and UK Department for International Trade at eCommerce Expo Asia 2022.
Secure your free ticket to eCommerce Expo Asia 2022 at Marina Bay Sands on 12-13 October.