Technology for Marketing 2022: Digitizing a Heritage B2B Business for the Future with Wella Company's Wilmer Ryan Cu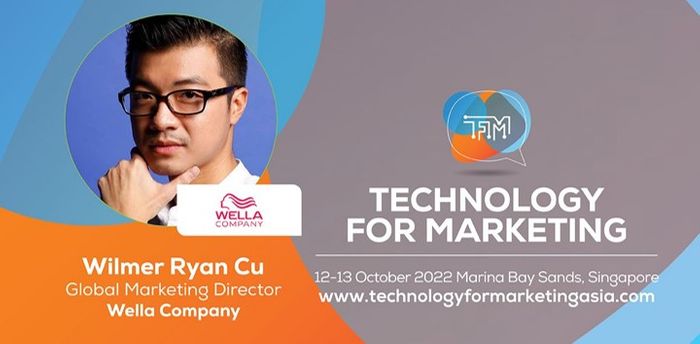 With so much competition for attention in the digital world, Wella Company's Global Marketing Director, Wilmer Ryan Cu, shares his thoughts on how omnichannel strategies and marketing technology can create closer connections with customers. Get your free ticket to hear more from Wilmer at Technology for Marketing 2022 on 12-13 October.
Q: What do you feel is the biggest challenge for marketers within the next year? What impacts does this challenge have? And how can we overcome this challenge?
The challenge is already right before our eyes- we are all trying to do the same thing and there is so much noise out there in the digital world. We, as marketers, need to also hold ourselves accountable for this magnitude of noise. Who among us has not found it irritating to have ads on YouTube in the middle of an exciting video or see ads instead of posts from our friends on Instagram? This goes to the extent of proliferation of fake news and weaponizing fake news that are even ruining nations. Overcoming this challenge is a collective effort to be responsible with the technology we develop as a marketing community. While we compete for the share of mind and attention of consumers, the only way we will continue to have this medium is by being responsible with it.
Q: Do you have your eye on any specific technology or digital opportunity that can help B2B businesses achieve a fully functioning omnichannel strategy, and why?
For a B2B-oriented business like Wella, the big opportunity is really how to link the salon professionals and end consumers in one ecosystem. We need to maximize our brand and our distribution without alienating either the salon professionals who truly understand how great our products are and the end consumers whose shopping channels have truly evolved. Digitally, I see a huge potential in working with eCommerce marketplaces to evolve into serving not only consumers but service professionals and in fact, maybe even create a new category: the pro-sumers. Other beauty categories have dipped their hands on this already. An example of which would be using VR to show what a certain lipstick shade would look on you. I think this technology will get better and better and perhaps consumers will get their hair consultations this way.
Q: Wella Company has a mission in enabling individuals to be their true selves. How do you go about achieving this goal through marketing technology?
We, at Wella Company, take pride in having hair solutions for any specific consumer hair problem out there. In that sense, our industry has been a true pioneer in propagating individuality- our core business in hair color has always been about personalization. While times have changed, the mission has not. Marketing technology will play a big role in how we converse with our customers and consumers - from consultation to personal recommendations on how to solve their hair concerns. Further to that, marketing technology paves the way to remove boundaries and borders and creates the space for consumers all over the world to share their experiences with us, our brands and our products.
Q: When faced with solutions that can help digitally transform your marketing efforts, what is your usual approach or philosophy in applying such technology?
Firstly, would be to 'Think like the consumer'. The only way the technology works is if the consumer believes it has truly impacted them and caught their attention. Oftentimes, we fall into the trap on talking to ourselves. Erase all the knowledge you have and think like the customer- 'is it making sense?'
Secondly, I would be extremely clear about the objectives. It is easy to put all your expectations on a digital transformation, but it is always important to take a step back that digital is a medium. The content and messaging is what needs to be delivered effectively. So, it is always good to be clear on what we are trying to achieve from this.
Lastly, just go with it smartly and learn. If it works, great. If not, still great because you will have the data that will make your marketing efforts stronger the next time.
Q: What would be your biggest piece of advice for fellow marketing leaders who are considering or struggling to adopt omnichannel strategies?
Understanding the stories in the minds of your customers and consumers is most important. In an industry like ours that provides technical products to salons, moving to omnichannel has got to be one of the most difficult tasks. A lot of us get too excited with launching our brands and products in stores and in online marketplaces. But, the challenge of omnichannel is the cohesiveness of customer journey, and the reality of the online channel is that there is endless shelves meaning competition has never been messier. At the end of it all, marketing remains to be about the consumer so the plan to engage the consumer in omnichannel environments is definitely more important than how many points of sale are present.
Finally, what do you feel is the value of in-person events like Technology for Marketing, and why would you encourage fellow business leaders to attend your session?
Marketing is personal and will always be, and it does not get more personal than face to face. I'm excited to share case studies of what we have done in the Wella Company, specifically in Asian markets, that forced us to re-evaluate our marketing models. While the digital movement is not new, the nature of our industry being service oriented was not an easy transition. I'll be sharing our thought process through this transition and more importantly, sharing my story of this journey as a marketer.
Wilmer will lead a session on Digitizing a Heritage B2B Business for the Future, as well as joining a panel session on Creating Authentically Inclusive Marketing.
Secure your free ticket to Technology for Marketing 2022 at Marina Bay Sands on 12-13 October.