07 Feb 2022
Fave veteran Ng Aik-Phong joins ShopBack as managing director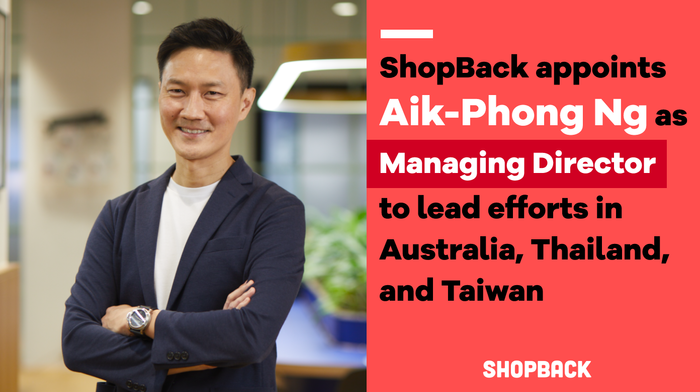 SHOPPING and rewards platform ShopBack on Monday (Feb 7) appointed Ng Aik-Phong, a longtime executive at industry peer Fave, as its managing director.
Ng was most recently managing director at Fave South-east Asia, where he led the launch and growth of its payments solution FavePay and "buy now, pay later" (BNPL) offering FavePay Later, in Singapore, Malaysia and Indonesia.
In his new role, Ng will lead the rollout of 2 products, ShopBack In-Store and ShopBack Pay, in Australia, Thailand and Taiwan. ShopBack In-Store is a rewards and loyalty platform for brick-and-mortar outlets; ShopBack Pay allows in-store payments while stacking rewards. Ng will be responsible for driving merchant adoption and strategic partnerships in both product lines.
Ng, who contributed to the founding of Fave, has over a decade of experience in e-commerce and fintech. He previously held Asia-Pacific leadership positions in Groupon, before co-founding and providing seed investment for fitness platform KFit. Ng was later deeply involved in KFit's acquisition of Groupon Singapore, Malaysia, and Indonesia, and its subsequent rebranding as Fave.
"The addition of Aik-Phong to ShopBack's leadership bench marks yet another significant milestone in the group's mission," ShopBack said in a Monday press release.
Ng's appointment at ShopBack comes as the company moves deeper into the fintech realm. In December last year, ShopBack acquired BNPL startup hoolah. It later named ex-Zip executive Hamish Moline as managing director of financial services, to develop products including BNPL.