25 Aug 2022
New e-Book from Storyly Offers Guidance to the Future of Digital Marketing in the Mobile Retail Landscape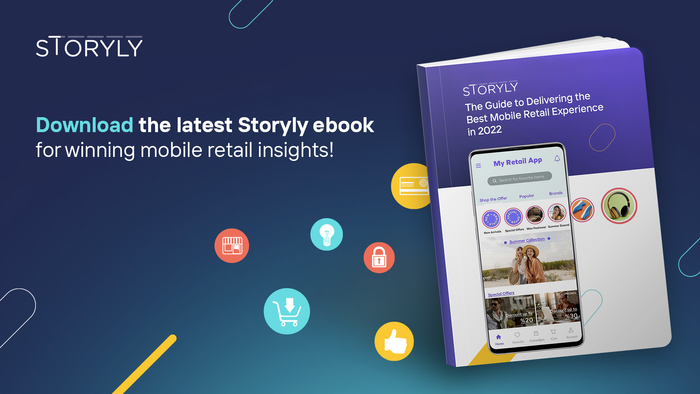 Storyly announces a new eBook for brands in digital marketing: The Guide to Delivering the Best Mobile Retail Experience in 2022 is available for download.
The new eBook draws from years of experience and success stories with 300+ top-tier companies to offer research-backed, actionable strategies for providing customers with a mobile shopping experience that is captivating, dynamic, and distraction-free.
Many companies are wondering if the pandemic-fueled growth of online retail is sustainable. With lockdowns lifted globally and the return of brick-and-mortar shopping, many brands are wondering whether to focus their marketing energy and budget on the in-store experience or online alternatives. The answer is both.
In a new e-Book, The Guide to Delivering the Best Mobile Retail Experience in 2022 (https://bit.ly/3ceIcAA), from the user engagement platform, Storyly, marketing teams for brands across industries can find key insights to making the most of digital capabilities without neglecting in-person shoppers. With research-backed strategies and insights from years of experience, the team at Storyly is able to help brands understand the expectations of today's shoppers and success in this new era of eCommerce.
When introducing the new eBook, Emre Fadillioglu, Co-founder and CEO of Storyly tells digital marketers that in order to compete in the "attention economy" of the modern mobile landscape, engagement and user experience are more important than ever. "If you're a mobile retailer, the competition is not against merely where your target audience is shopping but where they spend their time on the phone." writes Fadillioglu, highlighting the interactive capabilities of channels like Stories and their ability to facilitate highly-captivating, immersive, mobile-native experiences for mobile shoppers.
Creating an Omnichannel Experience
As noted in the eBook, "Today's customers are living— and shopping — in a channel-less world, making an omnichannel strategy more important than ever. Customers expect to be able to shop wherever meets their needs, whether that's on your site, through your app, or directly within an ad experience." Not only are customer expectations high for being able to move seamlessly through different channels and make purchases instantly, but innovations that were once stop-gap solutions like ordering products online for in-store pickup or offering curbside delivery are showing no signs of dimming in popularity. In order to succeed in this ever-evolving landscape, brands need flexible tools like Storyly that can provide a highly engaging customer experience while offering brands actionable insights on customer needs and preferences.
Actionable Strategies for Brands
Within the eBook, readers will find Storyly's top tips for:
Creating an omnichannel user experience

Making the most of mobile moments

Retaining users after holiday surges

Gathering first-party audience insights

Streamlining conversion and driving action
These strategies and insights are crucial to mobile marketers looking to adapt to a landscape of shoppers with incredibly high expectations and shortened attention spans. By offering concrete, actionable information on meeting these demands, Storyly hopes to help brands maintain and expand their successes in both digital and in-person retail.
"Our interviews with mobile marketers and end users of retail apps unearth some important findings. Today, the demand for user attention is high while the means to capture that attention is limited. In the context where users scroll less and less, marketers must find new ways to communicate with their users to build stronger connections. Inspirational experiences are the next step of growth in mobile retail. That's why retailers must unlock new ways for people to connect and discover products online." says Kaan Uyanık, Product Marketing Manager from Storyly.
The eBook "The Guide to Delivering the Best Mobile Retail Experience in 2022" is available at https://www.storyly.io/mobile-retail-ebook.

About Storyly
Created in 2020 by the founders of AppSamurai, one of the Americas' Fastest Growing Companies, according to Financial Times and Inc, Storyly is a business-to-business SaaS (software as a service) platform focusing on user engagement in mobile apps and websites by bringing in the well-known, mobile-native, the most catchy and outstanding content format of the day, Stories, to them. Storyly Stories empower mobile marketing strategies and enable them to engage with their audience beyond the limits of the screen. Storyly is headquartered in San Francisco, USA with offices in San Francisco, Colorado, Berlin, London, Barcelona, Sao Paolo, Bogota, İstanbul, and Ankara, and offers services to over 300 brands in more than 40 countries.
Media contacts:
Ozge Celikelli - ozgecelikelli@appsamurai.com

Storyly Content & Brand Team - media@storyly.io