09 Oct 2022
"Stories" promise high engagement rates for retail apps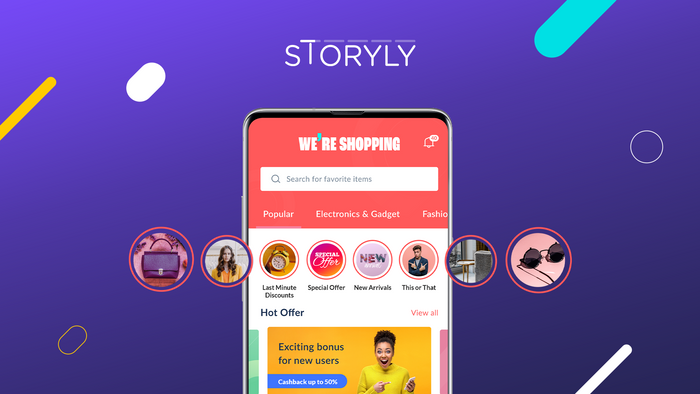 Stories continue to be the leading mobile content format for user engagement and retention, according to the new ebook published by Storyly.
The mobile-native content format Stories have been in use for nearly a decade, reaching beyond social media and becoming an integral part of mobile apps and websites. Storyly, the user engagement platform that embeds full-screen, interactive, and immersive Stories in mobile apps and websites, recently shared the key performance metrics about the format in its ebook "The Guide to Delivering the Best Mobile Retail Experience."
According to Storyly, 20% of mobile users engage with a Story by tapping the cover or entry points in retail mobile apps and start watching them. In some apps, the average engagement rate is as high as 38%, making Stories one of the most effective in-app channels for customer engagement. It is also stated in the ebook that once a user starts watching Stories, they consume an average of 7 Stories, which in some cases increases up to 25 Stories, giving marketers new and different opportunities to convey messages to their users.
The average click-through rate of Stories in retail apps is roughly 30% - a significant lead over in-app messaging at 13% and ranks dramatically higher than notifications, which have only a 3% open rate. Video Stories also deliver high performance in mobile apps, according to the ebook. On average, users spend 18 seconds watching Video Stories in non-video-driven apps, while the average rises to 36 seconds on more video-heavy platforms.
Interactive stickers offered by Storyly also allow mobile app and website teams to gather first- and zero-party data about their audience's needs and preferences, guiding their marketing strategy while also making it easier for them to appropriately segment their audience and improve their personalization efforts. Interactive stickers have a response rate of 25%, more than twice that of a traditional app survey, which in some cases reaches 65%. Storyly reports a response rate of 57% for multiple-choice questions, 43% for polls, and 16% for question stickers on average.*
Storyly Stories: The missing piece for the next-level user engagement
Storyly is a user engagement platform that embeds full-screen, interactive, and immersive Stories in apps and websites with almost no coding. Storyly Stories, by nature, provide mobile apps with an opportunity to communicate any message interactively without interrupting the experience and empower lifecycle marketing strategies from discovery to purchase and beyond to loyalty and advocacy. The product offers features such as interactive elements, customization, targeting, automation, personalization, monetization, social media import, and analytics.
Co-founded by Emre Fadillioglu, Soner Sensoy, and Mehmet Bilgin, who are also the founders of FT500 and Inc5000 company AppSamurai, Storyly was born as an intrapreneurship idea. The user engagement platform, which is the first viable product of the company, allows mobile applications and websites to have Stories in native iOS, native Android, React-Native, Flutter, and web platforms through lightweight SDKs. Storyly also offers a dashboard to manage and analyze Story content while Storyly Studio, which is integrated with Canva, helps create interactive Stories. The product is compliant with Pentest by vulnerability coordination and bug bounty platform Hackerone, ISO, and GDPR.
Irem Isik, Head of Marketing of Storyly, said Stories provide mobile apps and websites with a new means that is full-screen, and distraction-free. "What makes Storyly Stories so catchy is the fact that they are familiar to all and very intuitive. They also enable marketers to collect much-needed insights that can enrich their marketing strategies, drive user action when launching new products, campaigns, and discounts, and help them build meaningful and strong connections with their users. It is the missing piece for the next level of user engagement in the martech stacks of mobile marketers."
About Storyly
Created in 2020 by the founders of AppSamurai, one of the Americas' Fastest Growing Companies, according to Financial Times and Inc, Storyly is a business-to-business SaaS (software as a service) platform focusing on user engagement in mobile apps and websites by integrating Stories, the mobile ecosystem's most captivating content format. Storyly Stories empower mobile marketing strategies and enables them to engage with their audience beyond the limits of the screen. Storyly is headquartered in San Francisco, USA with offices in San Francisco, Colorado, Berlin, London, Barcelona, Sao Paolo, Bogota, Singapore, İstanbul, and Ankara, and offers services to over 300 brands in more than 40 countries.
To learn more about Storyly, visit: https://www.storyly.io/
For more information, please contact:
Ozge Celikelli - ozge@storyly.io / media@storyly.io

*Storyly Dashboard Data from August 2022