14 Sep 2022
Turkey's Fashion Giant DeFacto Enhances Customer Communications with Storyly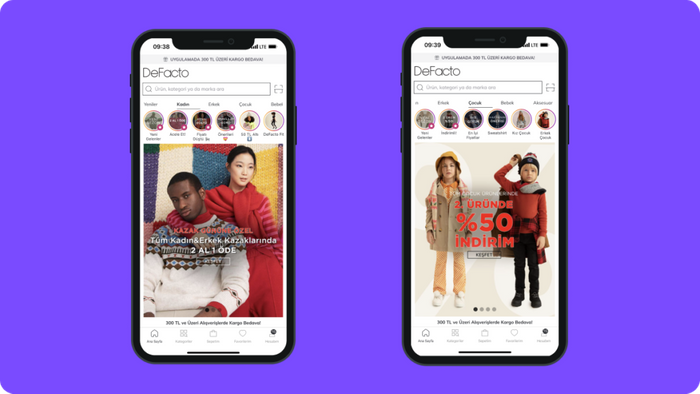 As a leading brand in ready-to-wear fashion in Turkey, DeFacto knows the importance of offering shoppers a high-quality in-app experience on their mobile phones. However, like many fashion retailers, they ran up against certain limitations of mobile app design, such as small screens, and had difficulty displaying the full range of their catalog to their in-app audience. To solve this problem and to nurture customer loyalty by creating authentic connections, DeFacto partnered with Storyly, the user engagement platform that embeds full-screen, interactive, and immersive Stories in mobile apps and websites.
With Storyly, DeFacto is able to offer their customers a quick and appealing way to view the latest fashions and accessories in a fresh and familiar format, Stories. Storyly Stories enables DeFacto to curate content for different segments of their audience based on their shopping history and preferences. By applying user data and audience segmentation, DeFacto is able to welcome each user to the app with a home screen that displays products most likely to be relevant to their needs and interests in Storyly Stories, helping them discover new items and boosting sales. The fashion giant also makes use of Storyly Stories to remind their users of the products they forgot in their carts, shortening the conversion funnel.
DeFacto has also been able to offer their audience a shoppable video experience through Storyly Stories where users can tap on product tags for items seen in their Story feed and be taken directly to the product page to find out more information and add the item to their shopping cart. This streamlining of the discovery and checkout process has been extremely successful for DeFacto, and they've even been able to utilize countdown stickers within Storyly Stories to create a sense of urgency around limited-time offers and discounts. By combining these strategies, DeFacto so far has achieved a 40% engagement rate for their Storyly Stories content, and a click-through rate of 69% on shoppable videos.
About Storyly
Created in 2020 by the founders of AppSamurai, one of the Americas' Fastest Growing Companies, according to Financial Times and Inc, Storyly is a business-to-business SaaS (software as a service) platform focusing on user engagement in mobile apps and websites by bringing in the well-known, mobile-native, the most catchy and outstanding content format of the day, Stories, to them. Storyly Stories empower mobile marketing strategies and enables them to engage with their audience beyond the limits of the screen. Storyly is headquartered in San Francisco, USA with offices in San Francisco, Colorado, Berlin, London, Barcelona, Sao Paolo, Bogota, İstanbul, and Ankara, and offers services to over 300 brands in more than 40 countries.
To learn more about Storyly, visit: https://www.storyly.io/

Media contacts:
Ozge Celikelli - ozgecelikelli@appsamurai.com

Storyly Content & Brand Team - media@storyly.io